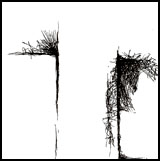 [PCMSNT002]
Custom Mixes

Nic TVG :: Sub
Five years ago, I started Pinecone Moonshine with the plan to release concept tracks every couple of months. Life changes and so forth, but I have found myself back at my original plan.
These two tracks were part of an gallery exhibit idea where the pieces were to be fragmented with excerpts of modern media. The full WAV package includes a pdf of additional sketches.
No Truth In Tuning courtesy of Scientific Wax.
Kindly Garden Snakes courtesy of Syncopathic Recordings.