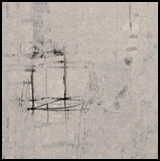 [PCMS027]
The Painting Space Vol 4
Metro :: Snaper :: Brijawi :: Dot Product
Metro's piece Feelers sets the theme with large kicks, bass hits that decay slowly, and reverb to sit in the empty space. Shuffles and a steady single block hit create the sense of tempo leading into Déjà Vu by Snaper which goes even sparser but introduces fragments of break beats.
Like tracing a cycle, Déjà Vu set ups Brijawi's Drumfunk piece, ATG, where rolling snares and a funky bassline are the focus. Dot Product revists the saturated reverb and emptiness of Feelers with a long, almost ambient piece with muted kicks and sustained swells of noise.
Artwork "Brief" by Julie PoisonIv.
Feelers
Metro

Déjà Vu
Snaper

ATG
Brijawi

56i 18j 144k
Dot Product

All rights reserved. Tracks mastered by [

Macc

].