Shipping Rates
US
1 record: $4.27
2 records: $4.27
3 records: $4.68
4 records: $4.68
5 records: $5.09
Canda
1 record: $6.60
2 records: $8.30
3 records: $9.15
4 records: $10.85
5 records: $12.55
International
1 record: $15.62/ £9.75 GBP (requires extra packing)
2 records: $15.62/ £9.75
3 records: $19.20/ £11.99
4 records: $22.78/ £14.23
5 records: $26.36/ £16.46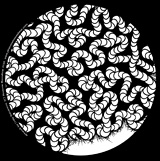 [PCMSV002]
Sub - So Finster Die Nacht (Fracture's Astrophonica Remix)
Fushara - Reaching Out / Takeshi Nakamura - 4
Fracture takes the sparse clicks, bass tones, and introspective Rhodes harmony of Sub's original and gives it the Astrophonica touch with high-energy bass lines and steppy beats.
Fushara mixes an IDM sound with a summery melody which matches well with Takeshi's '4' that balances a classic acid line with break beats and an odd time-signature.
Artwork by Craig Roccanova.